Making a difference
Loane balances family life and school to find a rewarding career as a nurse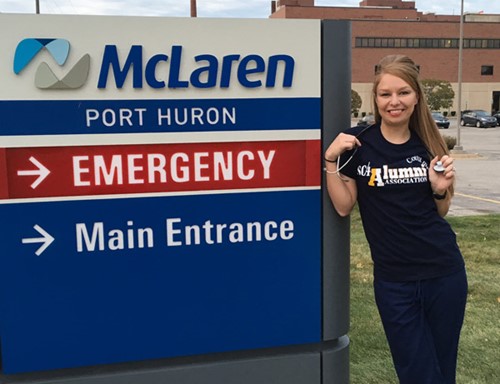 For some students choosing a degree is the most difficult aspect of college, but for Ashley Loane, of Marysville, becoming a nurse has always been her purpose in life.
"I always felt that being a nurse was what I was supposed to do," Loane said. "The ability to make a difference in someone's life is very rewarding. Nursing is such a noble, selfless career, and with all the specialties, the possibilities are endless."
Loane chose the nursing program at SC4 because of its great reputation for producing talented nurses. As she says, "If you have one of best programs in town, why would you leave and go to a mediocre program?"
In 2008 she was accepted into the LPN program and a year later completed her certificate and graduated with honors. She went on to be accepted into the LPN to RN articulation program and in 2012 graduated again, with honors.
She currently works in McLaren Port Huron's Intensive Care Unit as an RN, but that isn't her end goal. She is in the final stages of completing her masters of science in nursing with a dual certificate for family nurse practitioner at Frontier Nursing University.
While knowing her career goals early on came easy to her, getting there wasn't without its challenges. While Loane was completing the courses necessary to apply to the LPN program, she had her son, returning to school when he was two weeks old. She went on to plan her wedding in the middle of completing the LPN program and then had her daughter during the articulation program.
When asked how she balanced her schooling and a family she said, "there is a quote that I saw a long time ago that always stuck with me. It said to take out the excuses and replace it with the statement 'it's not a priority' and see if you can change your ways. For example, if you think 'I can't go to school' and replace that with 'school isn't a priority.' If it's a priority you're always going to find a way."
Loane said having a support system was important in helping her achieve her academic success and credits SC4 with giving her lasting relationships including her mentors. "SC4 gave me the greatest gift possible by introducing me to my two amazing mentors, Kathy Peace and Sara Kiell, who are still in my life," she said.
"Even as my education has carried me on to graduate school they have been my lifelong mentors. Talking to them always takes me back to why I started in the first place and their passion for nurses and their profession spills over into their students. I will forever be grateful for having such amazing women in my life, who have taught me much more than just nursing."
Peace, a professor of nursing in the LPN program, said she remembers Loane to be very cheerful and energetic in class and felt she was someone who could light up any room. "Ashely always did her best, she was so empathetic to her patients and it is so rewarding to see students like her become successful."
Loane encourages all students to find a mentor similar to what she found in Peace and Kiell. "When you do you cling to them and you don't ever let them go," she said. "Coming right out of school you second guess yourself and it's so nice to have someone to ask questions of without feeling intimidated."
Her advice for SC4 students is to find family and friends to hold you accountable. "Share your goals with everyone because you're less likely to find an excuse to give up. The more people who know, the more it will burn a motivation inside of you that will make you want to keep and achieve your goals."