Fashionable success
SC4 helped alumna Carrie Heidemann Charlick turn an idea into millions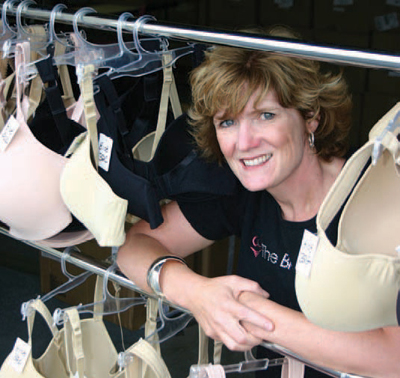 Self-confidence and a solid business education have helped SC4 alumna Carrie Heidemann Charlick turn a bright idea into a multimillion-dollar company.
Charlick of West Bloomfield is chief executive officer of Essential Bodywear, a company she cofounded in 2003 with business partner and company President Marcia Negro.
The business began with $500 contributed by Charlick and Negro. Today, Essential Bodywear has grown to $4.7 million in annual sales.
Charlick was raised in Port Huron and chose SC4 because it was close to home. She earned her associate degree in marketing in 1987. SC4 introduced her to valuable business concepts and she was inspired by the entrepreneurship attitude.
"I never want to look back and say, 'woulda, coulda, shoulda,'" she said.
Essential Bodywear's mission is to revolutionize the way women buy bodywear. "We started with an idea of bringing bra shopping and underwear shopping to home parties," Charlick said.
Charlick said SC4 students and graduates should jump at opportunities and have confidence in their decisions.
"If you see a need and you think you can fill it, go for it," she said. "Move forward. Take a chance. With the job market we have right now, entrepreneurship is a great option."
Essential Bodywear is headquartered in Oakland County's Commerce Township and employs 14 office staff. The business has close to 500 representatives throughout the United States selling products through in-home parties.
National exposure
Essential Bodywear has been featured on the Today Show and in several publications including Glamour, Women's Wear Daily and Crain's Detroit Business.