Educating with passion
Lorena Nowakowski teaches students about the world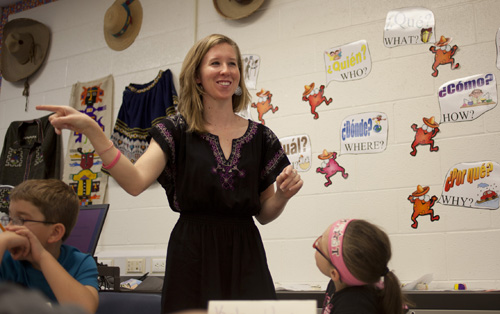 From West Africa to Washington Elementary School in Marysville, Spanish teacher Lorena Nowakowski has dedicated her career to opening the minds of her students.
"Every child deserves the same quality of education no matter where they are in the world," said SC4 alumna Nowakowski. "My heart is always with kids."
Nowakowski graduated from SC4 in 2008 and then from Saginaw Valley State University in 2011.
She immediately traveled to Sierra Leone, Africa, where she taught students in Third World conditions.
"It's about sharing with other people the experiences you have, to gain knowledge," she said. "With everything I've been given in life, how could you not do that."
Her ultimate career goal is to return to Africa to teach. But she said she has the important responsibility now to bring a slice of other countries back to her students in Marysville.
"It's exciting for me teaching culture alongside language, and open their eyes to that," she said that. "If you can excite kids about these places, the whole world is open."
Nowakowski said that SC4 for her was the perfect step between high school and a university. She had no debt when she left SC4 and all her credits transferred.
Her advice to students is to get active in college. Nowakowski was a Student Government officer.
"It is what you make of it. College is all about putting yourself out there," she said.