Early start
Bowerman used Blue Water Middle College Academy to start college while still in high school
When she was entering her junior year of high school, Raya Bowerman made the decision to challenge herself both personally and academically by taking college classes at SC4.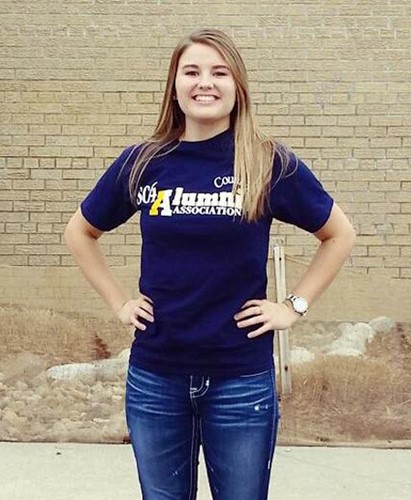 The Jeddo native was afforded that opportunity by the Blue Water Middle College Academy where students in St. Clair County can begin earning college credits while still in high school. Students enroll when entering 11th grade, and spend the next three years taking classes at both their home high school and SC4. There is no cost to the student, as tuition and books are provided by the BWMC.
Bowerman said she learned about the Blue Water Middle College during an information session at her high school, Port Huron Northern.
"I thought it was interesting and a good idea so I went to a seminar with my mom and that's when I decided to sign up for it," she said.
Bowerman was part of the first cohort of students at the BWMC, which began in 2011. It is currently in its fifth cohort.
Being a part of the BWMC not only gave Bowerman the advantage of learning how to be a successful college student at a young age, but it also helped her grow and mature.
"I thought it was a great program and it was a good way for me to mature and grow up, because you are in a whole different environment with older students and on a higher level of learning which I liked the challenge of," she said. "Taking college classes since I was 16, I learned how to study and learned what to do and not to do, so I think the middle college was overall a great experience."
Matt Ruiz, assistant director of the BWMC, said the program offers much more than free tuition and books.
"The progressive transition from high school to college is important, as it allows students to gradually increase their college workload over a three-year period," he said. "Another key aspect is the support students receive as they make the transition to full-time college students. The Blue Water Middle College Academy works with parents and SC4 staff to ensure that students have a support network in place to help achieve success at the college level. Raya was a wonderful student, and a great example of how students can benefit from the Blue Water Middle College."
In addition to being part of the BWMC, Bowerman took on the added responsibility of being a Student Ambassador. In this role, she was paid to give campus tours, help students register for classes and help with the college's new student orientation among other duties.
"I was on campus a lot and I loved being there so I thought it would be an awesome way to meet new students and show them around and just learn from other people who worked there," she said. "I think being a student ambassador helped also because I was able to learn more about the college from the information we had to tell students which helped tremendously."
Bowerman felt her time at SC4 and the BWMC greatly prepared her for her current academic endeavors, which include finishing her associate degree in liberal arts, and working on her pre-requisite courses so she can apply to the Cardiac Stenography program at Baker College of Auburn Hills this spring.
With the help of SC4 academic advisor Matt Zeig, Bowerman said she was able to make her career aspirations a reality.
"I feel like SC4 got me to where I am today," she said. "I did a job shadow for the radiological technology program at SC4 and I loved it and that's when I decided to do strictly ultrasound. I learned about how the heart worked and everything it does for you and it amazed me, so that's why I want to focus on that area. Matt helped me decide where to go by narrowing down schools with me and helped me get to Baker."
What is Bowerman's advice to current and future students?
"Take that step and go into the Middle College, or dual enroll, or just go to SC4 in general. It's a good environment to get your feet wet and figure out what college is like because it's affordable and close to home and it's a good experience for getting into the college life. I would advise anyone to go to SC4."