Providing excellence in health care
SC4 nursing graduate Rebekah Smith thrives in role of hospital CEO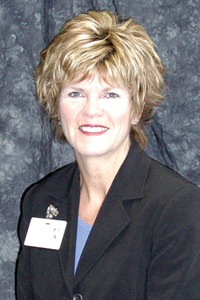 Rebekah Smith used her start at St. Clair County Community College to stay local and build a successful career in Port Huron health care.
A 1980 SC4 alumna, Smith is president and chief executive officer at St. Joseph Mercy Port Huron. Her new role has her heading the hospital where she literally grew up.
Her career began at the hospital as a nurse in 1980 and went on to include numerous positions there at different times. She also had leadership roles at the Port Huron Vascular Clinic and was a consultant for vascular services in the Port Huron area.
The path to her career success began at SC4. She credits her education in the associate degree nursing program for giving her the confidence to explore never-imagined job opportunities.
"I went to SC4 originally because it was the college that was in my community, but it also had an incredible reputation for the quality of nurses going out into the community," Smith said.
Her appreciation of SC4 went beyond the quality of the nursing department. She said the willingness of faculty and staff in other departments to encourage success gave her motivation and the chance to get the most of her college experience.
"I was as prepared if not the same than more than anybody else coming from a different nursing degree program (for my first job)," Smith said.
She went on to earn her bachelor of applied science degree from Siena Heights University with a minor in nursing and her master of health care administration from Central Michigan University.
"They had given me an incredible education there, and, because of that, I believed I was a good nurse," she said. "I had real-life experience, and I loved sharing that with students."
Today, Smith continues her input in an advisory role by helping shape SC4's office administration classes and programs.
Smith's advice for SC4 alumni is to find a mentor and never close opportunities before they present themselves.
"Be open to where your education and career path might take you. Very few people graduate and remain in the exact same position that they were in the day they graduated," she said. "Never stop learning."