Sibling success
Rhodes triplets enjoyed experience at SC4, Blue Water Middle College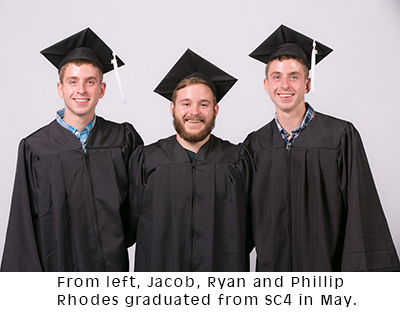 The Rhodes brothers have a plan in place for what they want to accomplish in their lives.
And the triplets – Jacob, Phillip, Ryan – hope to fulfill their dreams together.
"We are really close. We do everything together," said Jacob, who like his brothers was a 2014 Memphis High School graduate. "We hope to someday have our own construction business."
The Rhodes took a step closer to their academic goals by taking part in St. Clair County Community College's 91st annual Commencement ceremony Friday, May 8. They also will participate in the Blue Water Middle College Commencement Wednesday, May 27.
"Going to SC4 and being involved in the Middle College program has been a good experience for us," said Ryan, 19. "We have taken the same classes together and have done well in them.
There is more freedom here at the college than what you have in high school," Phillip said. "The teachers are great and there is some neat stuff to take advantage of like the library and the weight room."
Following graduation from SC4, the triplets will be separated for some time this summer. Jacob and Phillip are scheduled to leave June 1 for the National Guard basic training in Missouri. The program runs for 3½ months.
The Rhodes will be reunited in January when they begin classes at Northern Michigan University in Marquette. They plan to major in construction management.
"Our dad is a plumber and we have an uncle in the construction business," Ryan said. "It is something that has interested us for some time. Northern Michigan has one of the best construction management programs around."
The brothers enjoy hunting and fishing. They also have made a few visits to the Northern Michigan University campus during summer camping trips and 4-H shows.