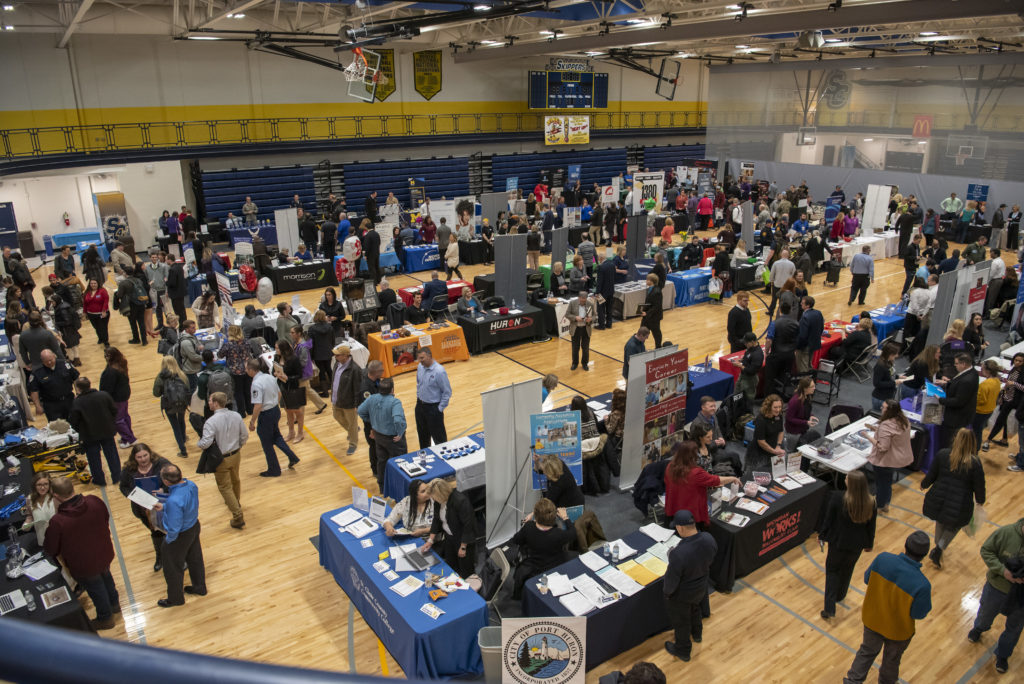 The SC4 Career Fair was held on Thursday, April 11, 2019 with 100 registered companies and more than 400 job seekers. For additional information, please contact Bonnie DiNardo, Director of Community Education and Relations at bdinardo@sc4.edu or 810-989-5739.
The participating companies were:
2020 Census Bureau
Adler Pelzer Group
Advia Credit Union
All-Ways-Care Services
Alliance Franchise Brands
Ascension Michigan
Attendant Care Autism Services
Attendant Care Companies
Best Buy
Biewer Lumber
Blue Water Community Action Agency
Blue Water Controls
Blue Water Developmental Housing
Blue Water DRP
BTM Company
Buckland
Camps Connect
Carlson-Dimond & Wright
Chef Shell's Restaurant and Catering
City of Port Huron/McMorran
CityFlatsHotel Port Huron
CSL Plasma
Derek Call State Farm Insurance
Detroit Police Department
DoubleTree By Hilton Port Huron
DTE Energy
Dunn Paper
Dyck Security Services
Eckhart
Eissmann Automotive
Electric Motor Services
Foster Blue Water Oil/Sunrise Stores
Gielow Pickles
Greg Badley Agency Farm Bureau Insurance
Hepta Systems
Huron Inc.
Incorporation to Maximize Personal Achievement with Community Training (IMPACT)
Innovative Housing Development Corporation
Jay & Kay Mfg.
Keihin Michigan Manufacturing
Kelly Services
Kimball Township Fire Department
Lake Huron Medical Center
Macomb/St. Clair Michigan Works
Mapal
Marwood Nursing & Rehab
Mary Maxim
McDonalds of Michigan
McLaren Macomb
McLaren Port Huron
Medilodge of Cass City
Medilodge of Richmond
Medilodge of Yale
Medstar Ambulance
Michigan Air National Guard
Michigan Army National Guard
Michigan Mutual, Inc. (MiMutual Mortgage)
Michigan Rehabilitation Services
Morrison Healthcare Food Services
Nesco Resource
Norma Group
Paul Mitchell The School Great Lakes
Port Huron Area School District
Pregis
Premier Business Products
Primerica
PTM Corporation
Qualified Staffing
Radio First
Regency on the Lake
ResourceMFG
Rochester College
Sanilac County Sheriff's Office
Sanilac Medical Care Facility
Sattler
Speedway
St. Clair County
St. Clair County Community College
St. Clair County Community Mental Health
St. Clair County Department of Veteran Affairs
St. Clair Landscape and Irrigation
State of Michigan Dept of Health & Human Services
The Harbor
The Logit Group
The Old Club
TimeTrak Systems Inc
Tricia's Affordable Cleaning LLC
Tri-Hospital EMS
Tru Tech Systems
United States Air Force
United States Army
United States Marine Corps
United States Navy
University of Michigan-Flint
US Farathane – Port Huron
Walsh College
WellBridge of Romeo
Wirtz Manufacturing Company
ZF Axle Drives
Please note that the list will change frequently as we get closer to the event.